Product Details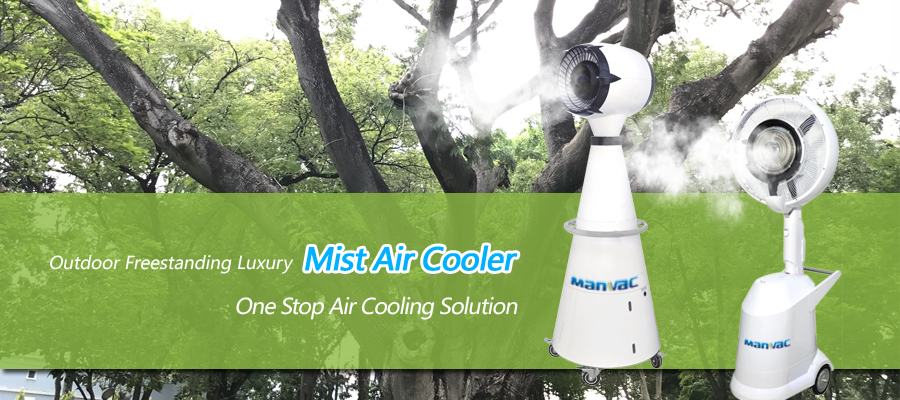 Outdoor standing mist air cooler fan
Model

Power

(kw)

Volume
(m³/h)

Effective
Area

(m2)

Water
Capacity

(L)

(L/h)

Fan Size
(mm)

L*W*H

KGS

A-4C

0.32

2450

95

94

7-10

700

700

2000

59.5

A-4PT

0.43

2450

112

94

12

700

700

2000

64

WT-4C

0.32

2450

80

6

(Automatic
inflow)

7-10

470

635

1166

30

D-6C

0.31

1500

80

60

8-10

670

750

1880

48

DW-6C

0.31

1500

80

6

(Automatic
inflow)

8-10
water cooler fan D-6C
* Decrease temperature: At least 3-8℃ within short times.
* Increase relative humidity.
* Reduce dust effectively.
* Purify air.
* Occasions: Outdoor restaurant& cafe, garden, bus station, walking street, play ground, or any
place which needs cooling.
* We keep on making improvement for the existing products and developing new products so
as to meet the market demands.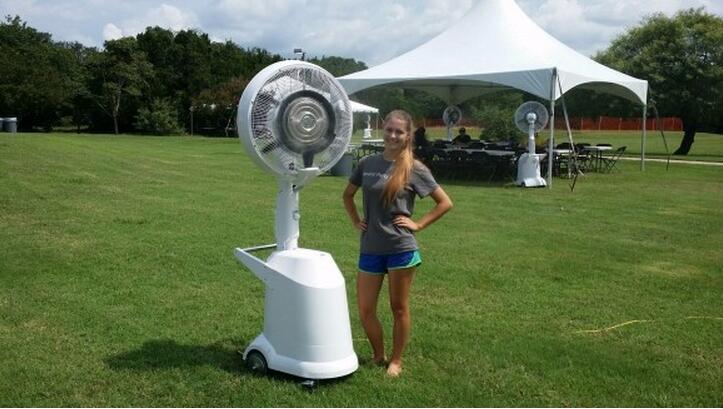 Fan Head:
Efficient and stable operation of the overall device, with a diagonal flow fan system.
Impeller:
Excellent Performance
Solid and durable. Low noise
Adjustable blade angle and little vibration
Die casting from high quality aluminum alloy
Tested by mechanical static balance.
Casting:
ABS engineering materials
Anti corrosion, anti – UV & anti aging
Easy to clean and brand
Guard Net:
Dynamic Streamlined design
Reduces vibration
Ensures overall stability of the fan
Guide vane unit:
Integrated misting cooling device
Small air resistance, high strength @low noise
Guide the flow direction of airflow to enhance air circulation
Wheels:
Low noise
Convenient and safe
Front wheels, directional wheels
Rear wheels, with steering and braking functions

A-4PT

WT-4C

D-6C

A-4C

DW-6C